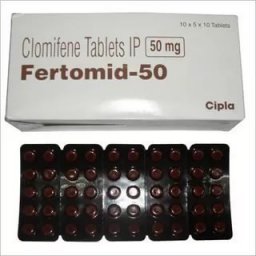 Women's Health
Fertomid 50 mg
Fertomid 50 mg Detailed
What is Fertomid 50mg?
Fertomid tablets are manufactured by Cipla Ltd. in the strengths of 25 mg and 50 mg. Fertomid tablets is used for the treatment of ovulatory dysfunction in women who wish to become pregnant. Impediments to achieving pregnancy must be excluded or adequately treated before begining treatment with Clomiphene Citrate. Clomiphene tablets are also found very effective in the treatment of secondary male hypogonadism a condition in which the body doesn't produce enough testosterone. Generic Clomiphene tablets is used offlabel by male athletes and bodybuilders especially steroid users at the end of a cycle.
How to Take?
Use Clomiphene Citrate exactly as directed by your doctor. Take each tablet with a full glass of water. It is usually taken in 5 day cycles. Follow your doctor's instructions.
Side Effects
The more common side effects of tablets (Fertomid) included ovarian enlargement, vasomotor flushes, abdominal-pelvic discomfort (distension, bloating, pain or soreness), nausea and vomiting, breast discomfort, visual symptoms, headache and intermenstrual spotting or menorrhagia. Stop taking Clomiphene Citrate tablets and seek emergency medical attention if you experience an allergic reaction including: difficulty breathing, closing of your throat, swelling of your lips, tongue, or face, or hives.
Please log in to write Fertomid 50 mg review.